[media] [media-object pull="left"]
[/media-object] [media-body] We proceed the international exchange program between Kasetsart University in Thailand and Queen's University in Canada. We started this program in 2016.
For students who want to be research fellow
Due to the physical capacity of rooms, we usually cannot accept more than one research fellow.
Please contact Osamu Mizuno via e-mail for availability of research fellows.
On the inquiry, it is better to show your gradings in your university, capability of Japanese and English, experience of programming, and your reason for applying to my lab.
Furthermore, applicants will be requested to write research plans and
answer the past entrance examinations of KIT before submitting entrance applications.
[/media-body] [/media]
Foreign dispatchers
| Grade | Country | SY | Duration | Purpose |
| --- | --- | --- | --- | --- |
| M1-M2 | Canada (Queen's University) | 2017-2018(planned) | 1 year | Research discussion |
| M1 | Thailand (Kasetsart University) | 2017 | 40 days | Global internship |
| M1 | Canada (Queen's University) | 2017 | 60 days | Research discussion |
| M2 | Canada (Queen's University) | 2016 | 8 days | Research discussion |
| B4 | Canada (Queen's University) | 2016 | 30 days | Global internship |
| M1 | Thailand (Kasetsart University) | 2016 | 40 days | Global internship |
| M1 | Vietnam (Panasonic RDC Vietnam) | 2015 | 45 days | Global internship |
| M2 | Canada (Queen's University) | 2012 | 10 days | Workshop & Discussion |
International Conference Presentation by Students
| Grade | Conference | SY |
| --- | --- | --- |
| M2 | QRS2017 (Prague, Czech) | 2017 |
| M1 | IWESEP2017 (Tokyo, Japan) (Best paper award) | 2016 |
| B4 | ISSRE2016 (Ottawa, Canada) | 2016 |
| M1 | PROFES2015 (Bozen-Bolzano, Italy) | 2015 |
| M1 | COMPSAC2015 (Taichung, Taiwan) | 2015 |
| M1 | SERA2014 (Kokura, Japan) | 2014 |
| M1 | SERA2014 (Kokura, Japan) | 2014 |
| M2 | IWESEP2012 (Osaka, Japan) | 2012 |
| M2 | ISSRE2011 (Hiroshima, Japan) | 2011 |
| M1 | ISSRE2011 (Hiroshima, Japan) | 2011 |
| M1 | IWSM/MENSURA2011 (Nara, Japan) | 2011 |
| M1 | IWSM/MENSURA2011 (Nara, Japan) | 2011 |
| M1 | IWSM/MENSURA2011 (Nara, Japan) | 2011 |
| M2 | MSR2011 (Honolulu, USA) | 2011 |
Inbound students
| | Country | SY | Duration | Purpose |
| --- | --- | --- | --- | --- |
| M | France (IMT Lille Douai) | 2017 | 6ヶ月 | Exchange |
| B | Thailand (Kasetsart University) | 2017 | 3 months | Internship |
| B | Thailand (Kasetsart University) | 2017 | 2 months | Internship |
| M | France (Ecole des Mines de Douai) | 2016 | 6 months | Exchange |
| M | France (Ecole des Mines de Douai) | 2016 | 6 months | Exchange |
| B | Thailand (Kasetsart University) | 2016 | 3 months | Internship |
| B | Thailand (Kasetsart University) | 2016 | 3 months | Internship |
| M | France (Ecole des Mines de Douai) | 2015 | 6 months | Exchange |
| M | France (Ecole des Mines de Douai) | 2015 | 6 months | Exchange |
[media] [media-object]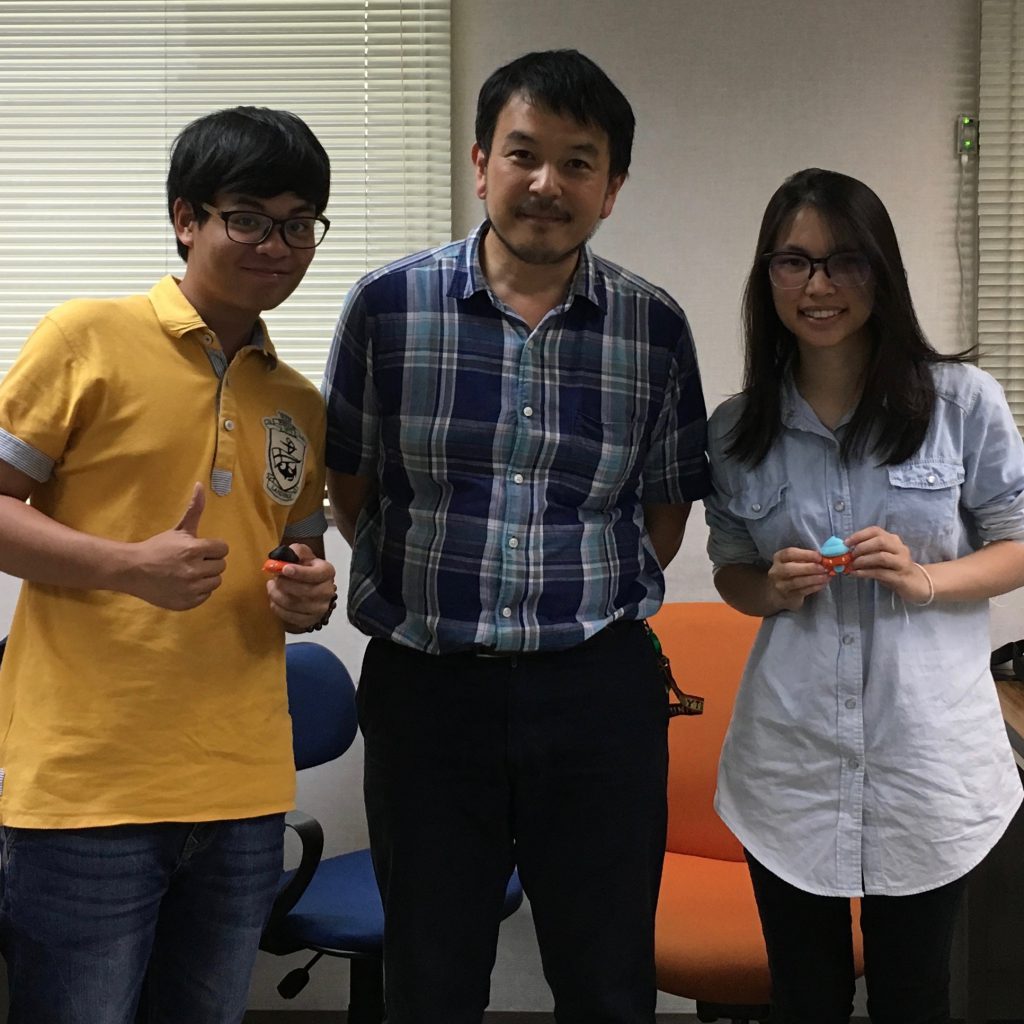 [/media-object] [/media]